Decorative Concrete San Antonio Tx
San Antonio Decorative Concrete
We offer professional decorative concrete installation in San Antonio, TX. Our decorative concrete solutions are perfect options for people looking to maximize the aesthetic visual of their space while achieving a low maintenance and affordable solution. We make appropriate use of a modified yet special cementitious substance that is created with strong acrylics and coloration pigments. By doing this, we enable our customers to achieve almost any design or texture layout they seek at a very affordable price point.
The common techniques we employ are to spray, trowel, rolling and squeegee the substance in a manner that is suitable for our customers unique concrete space. Regardless of it our customers are making use of the decorative concrete at a pool deck, garage floor, sidewalk or walkway, basement, or driveway, we are able to effectively resurface the concrete and transform it into a wonderfully beautiful, long lasting non porous surface that will continue to uphold its unique and vibrant appearance for many years to come.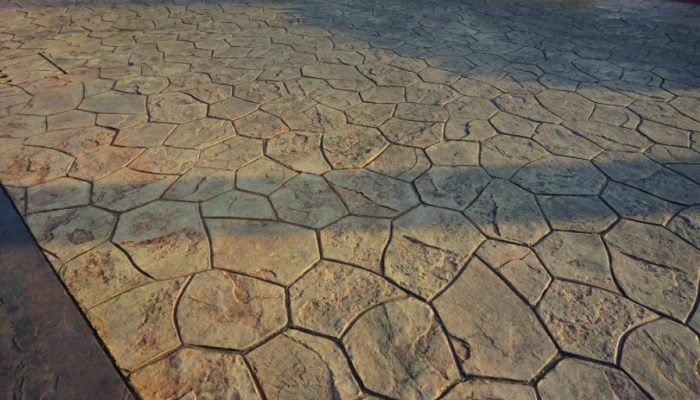 The products and substances we use enable us to provide ample benefits to our customers that many industry competitors are simply unable to match. The benefits we are equipped to provide are easy maintenance, slip resistance, our decorative solutions are applicable to all climates and they are also four times stronger than unmodified concrete solutions. To make effective use of concrete, our customers and others needs to know that it can be easily applied to new or even existing older concrete surfaces. This opens the door and creates a limitless amount of design options for you interior or exterior spaces. With the advances we have made over the years within the decorative concrete service industry via mixing and setting, our team of experienced contractors are able to provide any design, texture or color combination you could possibly think of.
The application of these finishes or coating can, and are commonly applied via a variety of diverse methods. The methods utilized come with different advantages and disadvantages, however some of the more common ones are acid staining, thin stamped overlays, splatter texture and state trowel down finish. Many of these methods can be utilized to also resemble different looks such as natural stone finishes, should our customers require a design that resembles different visuals.
Our service is provided with a focus on customer centricity and consultation. This is a unique and innovative approach within the concrete industry. We make sure that we adhere to our founders values by making sure that everything we do is aligned to our customers best interest while bringing our customer on board to be witness to just about everything from start to finish. This way, the customer is enabled to adopt information towards to product or substance used in the creation of their decorative concrete. Our promise is to deliver a customer experience like none other while developing and foster lifelong relationships with our clients. To do this, we view our entire business through the lense of our customers eyes and not that of our chosen business model. This way we are able to proactively understand our customers needs and expectations and therefore create suitable services that match their demands.
#1 Decorative Concrete Service In San Antonio, TX
Decorative Concrete Company You Can Trust 
Are you looking to create a beautiful outdoor decorative concrete patio in San Antonio TX? Look no further! We're the most popular decorative concrete patio installation company in the local community and offer the best customer service around.
Decorative Concrete Installation San Antonio
If you're looking to add some extra flair to your home, consider decorative concrete installation. Decorative concrete is a great way to add personality and character to any space. There are many different ways to use decorative concrete, so you can create a look that perfectly suits your style.
Decorative concrete is a popular option in many high-end homes and businesses. Not only does it add style and class, but it is also durable and functional. It can be used to create patios, driveways, pool decks, commercial flooring, or anything else you can imagine.